When Kate came back after talking on the phone, she saw the headphones lying on the chair. She picked it up, and heard Kenneth say the exact same things that she had said before. With their hands clasping each other's ears, they kissed!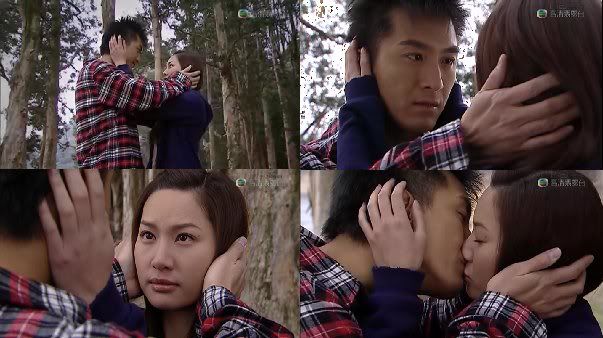 To get revenge on Queenie, Elaine sent pictures of her and Herbert to other people. When Herbert found out, he decided to replace Queenie for the advertisement in Japan.

Kate and Kenneth did voiceovers together for the couple in Condor Heroes. So sweet!
Kate asked Kenneth why he took her to Fei Oar San.
Kenneth: Couples have to go to places with the right atmosphere for 拍拖!
Kate: Who is拍拖 with you?
Kenneth: We are holding hands. That doesn't count as拍拖? Wah, then you very 'sit dai ah'
Kate: Yes, very! [runs off]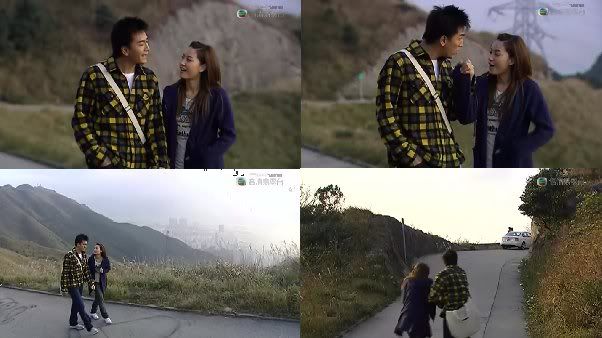 In Japan, the two other guys pretend to be drunk so that Elaine is left alone with Herbert, who tries to make a move on her. But Elaine thinks back to when Kate told her love that is gained by sacrificing the body will never last, and pushed him away.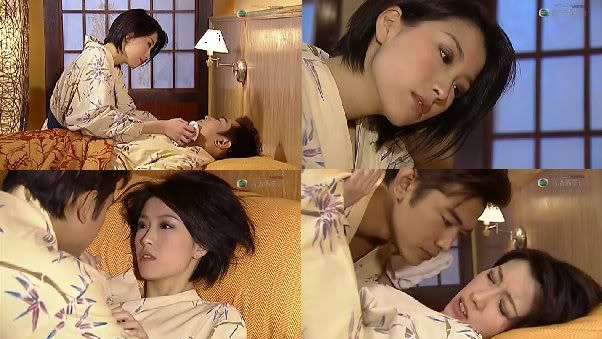 Chris overheard the manager Ah Joe saying that Kary had 'danced her way into Herbert's room' that night in Japan. He got really angry. He called Elaine a 狐狸精 in front of everybody.
Elaine: What are you so crazy about?
Chris: Yes, I really am crazy. So crazy that I like a woman that only likes money. I am even stupid enough to help you get revenge on Kiki when you were just using me to get close to Herbert! Bringing takeaway and giving up your body!
Elaine: With which eye did you see my sacrifice my body?!
Chris: Who are you trying to lie to? Everyone knows you went to Japan to film an advertisement... it was to sleep with Herbert!
Elaine: What are you talking about?! [Slaps him]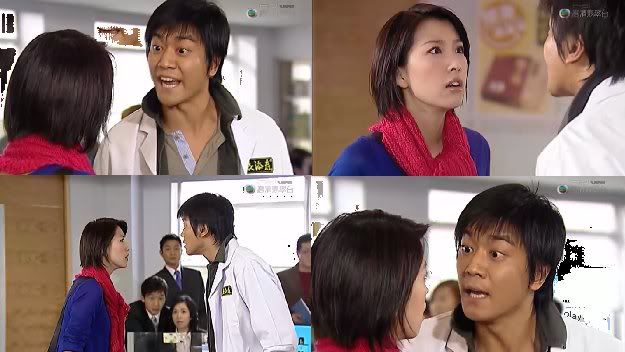 Claire had walked around all of Hong Kong's record shops and finally found Kenneth's favourite song 'Yesterday Once More.' However, Kate had paid double the price and bought it in case. Kate wondered why Claire wanted it so much. Claire said she had wanted to give it to Kenneth.

Claire: Did you know, Kate had bought the record for her boyfriend?
Kenneth: Oh really, then w can't argue with that!
Kate: What boyfriend? It's just a normal friend.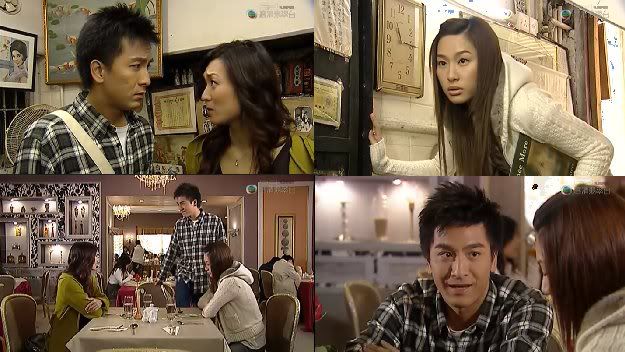 Kate was sulking and didn't want to give the record to Kenneth.
Kenneth: You don't think there's something going on between me and 娜姐 do you?
Kate: If I hadn't of gone back, I wouldn't know that someone cared about you so much.
[Kenneth takes a newspaper and curls it into a megaphone.
Kenneth: Everybody, this lovely, pretty girl here is my one and only girlfriend. I want to tell everyone, don't make a move on her, or else I will 'fight you to death!'
Here, in front of everyone, I swear I only like you and will only love you, no on else.

Kenneth: At this time in romantic movies, couples will, kiss for 3 minutes.
[Kate turns around and whacks him on the head saying 'Ah Cha!'
Kenneth: Wah! I wanted akiss, not a whack!
Kate: I have been filming a martial arts movie. Every time they make a move they say 'Ah Cha'
Kenneth: Lately I have been filming a porn movie. Every time they make a move they- [Kate runs off screaming]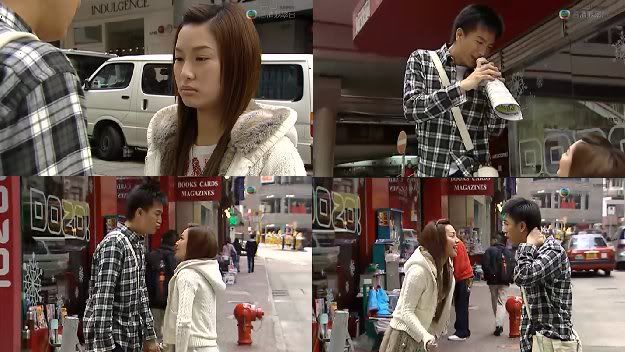 When they get back to the voiceover, a disaster is awaiting them. The storey above the studio had a fire and the water had soaked everything in the studio as well...